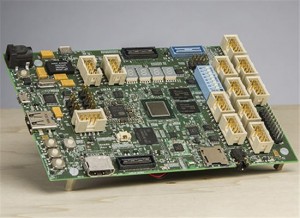 Why mention it on an Android blog? The key element is the Intel Atom Z3735G processor and Microsoft explicitly allows that "Sharks Cove is a development board that you can use to develop hardware and drivers for Windows and Android" (see www.sharkscove.org).
With support for a range of interfaces – including GPIO, I2C, I2S, UART, SDIO, Ethernet, mini USB, USB, and MIPI for Display and Camera – the target usage is Intel based tablets and mobile devices. Think 'appcessories'.
It takes its cue from Raspberry Pi, measuring 6in x 4in, but it's more pricey – it will be £192.99, from Mouser Electronics.
It's also another one to note regarding Intel's possible advance into Android territory.
See also: Intel emulates x86 Android with Google API calls
See also: Microsoft adds Motorola Solutions to its list of Android licensors