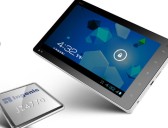 ARM – courtesy of Qualcomm, TI and Nvidia – has been dominating the Android landscape when it comes to the underlying processor architecture, but here comes MIPS Technologies…
The US processor-core provider is now powering a tablet based on Android 4.0 (the 'Ice Cream Sandwich' sandwich release) – the NOVO7, which it claims to be a Tablet first. The MIPs core has been used by Ingenic Semiconductor, a China-based CPU provider that targets mobile multimedia applications
Specifically, the NOVO7 tablet is based on Ingenic's JZ4770 mobile applications processor (see diagram below), which uses a MIPS-Based XBurst CPU running at 1GHz.

In terms of its spec, the tablet will be available with a 7-inch capacitive multi-touch screen, with. 8 and 9-inch models following. There is support for WiFi 802.11 b/g/n, USB 2.0, HDMI 1.3 and microSD, as well as 3D graphics with the Vivante GC860 GPU, 1080p video decoding and dual front/rear cameras.
Diagram – Ingenic JZ4770
The spec of the processor is detailed below.
CPU
XBurst, 1GHz
VPU
1080P Decoder
GPU
2D Graphics
3D Graphic, OpenGL ES2.0 and ES1.0, OpenVG1.1
Mem-IF
8/16-bit SRAM, Nor Flash
SLC/MLC/TLC NAND Flash ,  4/8/12/16/20/24 bit ECC
16/32-bit DDR2/DDR/Mobile DDR SDRAM
Peripherals
AC97/I2S/SPDIF, Audio Code, LCD-IF, LVDS, TV Encoder, EPD-IF, Camera-IF, Touch ADC,
1-wire, PCM,  I2C, SPI, UART, SIM-IF, SD/MMC/SDIO, USB Host, USB OTG 2.0, TS-IF, GPIO, Ethernet MAC, OTP Slave
Package
BGA379 ,14mm x 14mm x 1.4mm, 0.65mm pitch
Process
65nm CMOS
"I'm thrilled to see the entrance of MIPS-Based Android 4.0 tablets into the market," said to Andy Rubin, senior vp of mobile at Google. "Low cost, high performance tablets are a big win for mobile consumers and a strong illustration of how Android's openness drives innovation and competition for the benefit of consumers around the world."
"We are pleased to join with MIPS to announce these breakthrough high-performance, low-power, low-cost Android 4.0 tablets," said Qiang Liu, chairman and CEO, Ingenic Semiconductor.
"Combining the elegance of the MIPS architecture and Ingenic's innovation in processor design, we are bringing a new level of processor technology to mobile devices. As we continue to collaborate with MIPS to broaden the mobile ecosystem around the legendary MIPS architecture, we anticipate even broader proliferation of our devices worldwide. We believe the mobile world will be more versatile and colourful with another processor joining in,"
"The openness of Android is enabling a new level of connectedness and interaction between devices and between people across the globe," said Sandeep Vij, president and CEO, MIPS Technologies.
"We are excited to be a part of the Android ecosystem delivering on that vision. We applaud Ingenic's accomplishment in developing this new high-performance, feature-rich Android 4.0 tablet, and offering it at a price point that makes it widely accessible. We look forward to teaming with Ingenic as it continues to develop MIPS-Based mobile innovations."
In terms of availability and pricing, the Android 4.0 tablet is available in China and online through Ainol Electronics, with the 7-inch tablet retailing for around $100. According to Ingenic, the tablet "will be available in other geographies within the next several months".