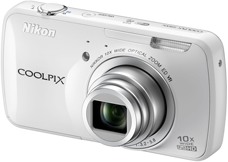 We covered a couple of weeks ago a rumour that Nikon was about to release an Android-powered camera, and it seems NikonRumors.com was on the money.
It expected an announcement on August the 22nd, and it has arrived, and a Nikon Coolpix S800 was the model expected, and it was also right.
The newly emerged camera has "a CMOS sensor with an effective pixel count of 16.0-million pixels and 10x optical zoom NIKKOR lens", but more importantly – from our point of view – Android 2.3 and Wi-Fi are part of the photographic package…
In its news announcement, Nikon writes:
In addition to superior basic camera performance, the S800c offers the natural operation and communications functions of a smartphone (except the phone function), making it a single product for shooting, viewing, connecting, and enjoying. Nikon proposes new ways of enjoying digital photography with the S800c and the fun it offers with network connections.
The idea is to make it as easy as possible to upload images to a social network or website from the camera itself. Also, with the likes of Instagram presumably in  mind – you can "customize your style of visual communication with over 500,000 apps on Google Play".
Read more about the camera on the Nikon website >>
Update: It seems, however, that Polaroid can lay claim to the crown of 'first Android-based camera', with its SC1630 Smart Camera. See, from January 2012, Polaroid's Android-powered, 16-megapixel Smart Camera…