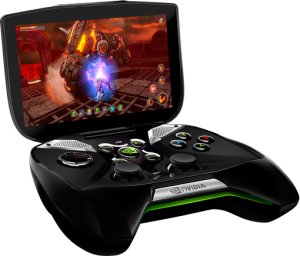 One of the biggest bits of Android news coming out of CES today is Nvidia entering the handheld gaming console market, with the Android-based Project Shield. It runs on the company's Tegra 4 processor.
The device resembles Microsoft's Xbox 360 controller, reports The Inquirer, with a range of buttons, a D-Pad, dual joysticks and rear bumpers and triggers.
Alastair Stevenson writes:
The company claims the Shield will boast a battery life of between five to 10 hours and features a reflex sound system that will offer audio quality on a par with most dedicated portable sound systems. It also features a 5in "Retinal" display, which might get the company in a legal squabble with Apple.
As for the new processor, it was previously codenamed "Wayne", writes Richard Wilson. The Tegra 4 is based around a quad-core ARM Cortex-A15 CPU with 72 custom Nvidia GeForce GPU cores, this means it has six times the GPU performance of Tegra 3.
Tegra 4 also supports 4G LTE voice and data comms with an optional chipset, the fifth-generation Nvidia Icera i500 processor.
"Tegra 4 provides enormous processing power and efficiency to power smartphones and tablets, gaming devices, auto systems and PCs," said Phil Carmack, senior vice president of the Tegra business at Nvidia.
The chip has a Computational Photography Architecture, which automatically delivers high dynamic range (HDR) photos and video by fusing together the processing power of the GPU, CPU and the camera's image-signal processor.
"Its new capabilities, particularly in the area of computational photography, will help improve a whole range of existing products and lead to the creation of exciting new ones," said Carmack.
Tegra 4 consumes up to 45% less power than its predecessor, Tegra 3, in common use cases. And it enables up to 14 hours of HD video playback on phones.
There are no details, as yet, on the Shield's release date or pricing.