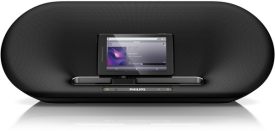 If I think 'smartphone' and 'speaker docks' then chances are a (Bowers & Wilkins) Zeppelin floats across my mind, for an iPhone… Well, Philips is addressing the Android market explicitly with three new versions of its previously Apple-oriented Fidelio series, reports Engadget.
There is no word on pricing or availability yet – think Christmas market, presumably – but the attractive looking and micro-USB friendly AS851, AS351 and AS111 are set to be unveiled at IFA today (the Apple versions are priced around the £100 mark.)
Engadget writes:
These new docks are so anxious to get close to your Android handset, that they're rocking a micro-USB connector that adjusts in three dimensions to allow just about any phone to stand tall in portrait or kick back in landscape. Either way, the phone syncs the jams via Bluetooth and a dedicated app. The biggie of the bunch, the AS851, promises "lifelike, distortion-less music" and 30 watts of RMS power, while the smaller AS351 lets you take the show on the road with both AC and battery options and bumps 10 watts of RMS. The smallest of the three, the AS111, is dubbed as a bedside companion.
Here's the full Philips spiel on the three models:
The Fidelio for Android range includes the following devices:
The clean lines of the curved back on the Fidelio for Android (AS851) not only looks remarkable, but also creates a more effective structure for acoustics and precisely tuned bass pipes for deep, tight bass reproduction so you'll experience a superb crystal-clear sound. This model comes with Philips Digital sound processing for lifelike, distortion-less music and 30W RMS total output power.

This slightly smaller Fidelio for Android (AS351) will give you the right sound at home and on the go. With the option to choose between battery and AC power, you can enjoy your music anywhere. This model offers Dynamic Bass Boost to preserve low tones for deep bass at any volume level and comes with 10W RMS total output power. A special shielding technology blocks mobile phone interference whilst the AUX-in at the back side of the device means you can connect almost any electronic device.

The third model in the range, the Fidelio for Android (AS111) comes in an elegant and compact design that looks gorgeous from every angle and fits onto every bedside table. Its 360-degree design gives a rich omni-directional sound to fill your bedroom, whilst neodymium speakers deliver a pure balanced sound so you can wake up to a great sound from your Android phone.