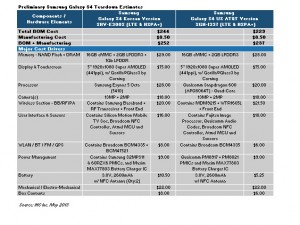 You may be surprised to know how different the localised versions of Samsung's latest Galaxy actually are, as revealed in a dissection of the devices carried out by IHS's iSuppli Teardown Analysis Service. And they do go into full detail.
If you want to know what, exactly, is inside a smartphone then here are some interesting documents.
"With at least four different known incarnations of the Galaxy S4, Samsung is demonstrating its strategy of offering a mobile product that has appealing features and pricing – and then adapting the device to suit the tastes of varying markets or regions," said Vincent Leung, senior analyst, teardown services, for IHS. "This approach is in stark contrast to the one-size-fits-all philosophy used by Apple Inc., Samsung's primary competitor in the wireless space. While the Korean and U.S. versions of the S4 look pretty much the same and have in terms of their core electronics many same core features – such as the enclosure, display, camera and battery – the products are as different from each other as kimchee and coleslaw."
For example, whereas the radio subsystem of the US version costs $1.50 more than the Korean version, IHS states, the part selection also varies – the US version uses the MDM9215M and WTR1605L devices from Qualcomm while the Korean version uses Samsung's own baseband and radio frequency transceiver and front end.