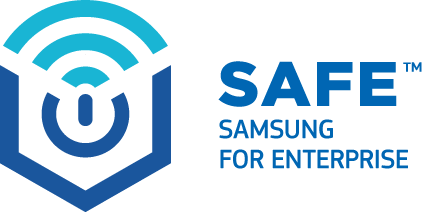 Corporate data leakage, viruses, malware attacks…
With smartphones and tablets becoming ever more prevalent in business circles, they can represent a headache for IT departments in large companies, in terms of managing secure data access. This is the area Samsung is addressing with its Samsung KNOX system, which it describes as an "end-to-end secure Android solution that provides security hardening from the hardware through to the application layer".
It is part of the company's B2B wider programme called SAFE ("Samsung for enterprise"), and is built on Security Enhanced (SE) Android, developed by NSA (National Security Agency).
Think in terms of device synchronisation, encryption and VPN support… In very basic terms, business and personal uses of a mobile device are kept completely separate.
Easily accessible via an icon on the home screen, the KNOX container offers a variety of enterprise applications in a secure environment, including email, browser, contacts, calendars, file sharing, collaboration, CRM and business intelligence applications. Knox enables existing Android eco-system applications to automatically gain enterprise integration and validated, robust security with zero change to the application source code. KNOX relieves application developers from the burden of developing individual enterprise features such as FIPS compliant VPN, on-device encryption, Enterprise Single Sign On (SSO), Active Directory support and Smart Card based multi-factor authentication.
"The growing trend for BYOD (bring-your-own-device) has, naturally, introduced a variety of security issues to the enterprise, but the fact remains that businesses embracing this strategy are enjoying significant advantages over competitors, as well as a the benefits that come with a happy workforce," said Simon Stanford, vp of IM division, Samsung Electronics UK & Ireland.
It will be available in certain Samsung Galaxy devices in the UK later this year, says the company.
The system is partly built with Centrify's Active Directory-based mobile security and cloud identity technology.
Centrify's press release states:
As part of this OEM agreement, Centrify will help Samsung power the growth of an easy-to-use, developer kit and ISV app ecosystem for Android in the enterprise through the licensing of its Mobile Authentication Services (MAS) Software Development Kit (SDK) into the Samsung for Enterprise (SAFE) SDK Framework. This enables any Android app developer to use this SAFE mobile client SDK within their rich native mobile app to enable "Zero Sign-On" from devices running KNOX to their cloud-based applications. This Zero Sign-On goes beyond traditional SSO for devices enrolled in the Centrify Cloud Service, by allowing users one-click sign-on to enterprise apps without having to enter a username and password.