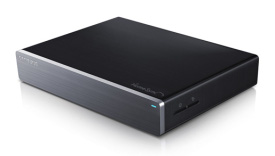 Samsung's new set-top box system, the HomeSync Media Hub is the company's Android Answer to Apple TV, reports Wired.
With a 1TB hard drive and 1GB of RAM, it is powered by a 1.7GHz dual-core Cortex A15, and it lets you stream movies TV and games with 1080p HD quality. Running on Android Jelly Bean, it will provide access to Google's Play Store and receive streamed content from certain Galaxy phones.
Christina Bonnington writes:
HomeSync Media Hub has a 1.7GHz dual-core processor and runs Android Jelly Bean – curiously, it's not a Google TV device, merely an Android device – so you have access to the Google Play store. With 1 TB of on-board storage, there's plenty of space to store all your favourite movies and TV shows. If you've got a Samsung Galaxy device, you can stream 1080p content to the box, which is more handsome than many of the "puck"-shaped streaming devices on the market right now.
See also – Samsung announces HomeSync Android TV box with 1TB storage, 1.7GHz dual-core CPU
Announced at the Mobile World Congress, Samsung hasn't given any indication of pricing but the system will be available in April.
"As the number of smart devices that a person owns continues to grow, sharing and streaming content will become even more popular, creating demand for somewhere that all this content can be stored safely and readily accessed," said Simon Stanford, Vice President of IM division, Samsung Electronics UK & Ireland in the press release.
"HomeSync was born from our experience across multiple markets, including mobile, digital imaging and TV, enabling us to create a single connected media environment, where people's content is accessible at any time through whichever screen they choose."