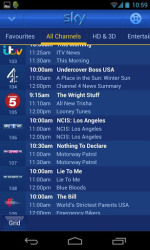 Another example of technology convergence, should one be needed… Sky has updated its Android app for letting your smartphone control your Sky+HD box (as long as its running Android 2.2, API 8, or above).
In this version you can use the device as a remote control and a shedule planner. For the former, you swipe across to rewind or fast forward, swipe up or down to change channels, and tap to pause or play what you're watching on your TV.
For planning, you can manage recordings, view them by genre, and add and delete programmes without interrupting the TV. If you see a show you like, you press Watch and it will start playing on your TV.
According to the Sky requirements:
To use the enhanced features you will need a compatible Sky+HD box with the new Sky Guide, and to connect your box to your broadband router either with a Ethernet cable or a Wireless Connector. Then make sure your Android device (OS 2.2 and above) is on the same broadband network. You do not need an HD subscription. Please see the Help section of the app for more details.

In order to use Remote Record you will need to register your Sky iD with the service at sky.com/remoterecord and simply follow the instructions. Please note that requests require 30 minutes notice before the start of recording.
[Via techradar.com]