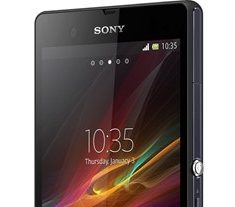 Has Sony finally produced an answer to Apple's iPhone? This is the question provoked by the latest Android news coming out on the back of CES, the Sony Xperia Z.
Check out this piece on Wired.co.uk – Sony Xperia Z hands-on: quad-core Android action doesn't disappoint
Jim Hill writes:
Sony is even calling this mighty quad-core Android handset a belated answer to the iPhone. In fact, it's upping the stakes considerably with its five-inch 443ppi Reality Display that beats Apple's Retina Display for resolution. It also draws on Sony's extensive entertainment empire with Bravia, Vaio and Walkman technology all pitching in to improve the user experience. Oh yeah, and it's waterproof too.

On closer inspection, the frame that Sony describes as a robust fibreglass unibody, is plastic and there's no escaping the fact that glass and aluminium make the iPhone feel superior. The Xperia does have more output options though, including micro USB and micro HDMI ports.
Over on the BBC (see CES 2013: Sony unveils bath-friendly Xperia Z smartphone), they emphasise the water-resistant qualities of the smartphone:
Sony says the handset, which has a 5in (12.7cm) screen, is capable of being submerged in water of up to one metre (3.3 ft) in depth for 30 minutes.

"If you want to want to sit in the bath and watch an HD movie this is the device for you," Sony Mobile executive Steve Walker told the BBC.
A nice touch – we are talking NFC here – is that the phone can communicate with other Sony products. For example, one touch can enable the transfer of data or pics, to a Bravia TV, for example…
The phone is expected to arrive in the UK in March.