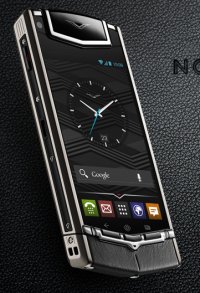 Android is often characterised as being for cheaper phones while iOS powers the most expensive, top of the range models. Well maybe that perception will change with a new model from Vertu, the luxury mobile phone maker. "Handmade in England. Powered by Android," is the company's promotional strap.
Now it is no longer owned by Nokia it is releasing the Android-based Vertu Ti, at a price of £6,700, reports CNet. It quotes the president of Vertu, Perry Oosting, as citing the scope for customisation and Android's existing market share as reasons to adopt Google's platform.
Luke Westaway writes:
I've had some hands-on time with the Vertu Ti (pronounced tee-eye, don'cha know), which cites titanium, sapphire crystal and rubies in its list of ingredients. The Ti is drastically too expensive to recommend over more capable mobiles like the Nexus 4, iPhone 5 or Samsung Galaxy S3, but the presence of Android Ice Cream Sandwich does make it more pleasant to use than anything else the company has built in the last few years.
Details of the spec include Android 4.0 (Ice Cream Sandwich), a 3.7 WVGA screen, a dual core 1.7GHz processor, 1GB RAM and 64GB of internal memory, front and rear cameras (the latter being a 8MP camera supporting 1080p HD video), Titanium and black leather casing, and "sound tuned in collaboration with Bang & Olufsen". Comms? Quadband GSM 850/900/1800/1900 MHz WCDMA Bands I, II, IV, V, VIII DC-HSPA+, Cat24, 42Mb/s. There's also Bluetooth and NFC support…
Dimensions? Height: 130.4 mm, Width: 58.9 mm, Depth: 12.8 mm, Weight: 181-201g
This is how Vertu describe their craftmanship:
Our highly innovative team has pushed the boundaries of what is technically possible, taking out more than seventy patents in the past five years alone.

Each key is individually ground and cut from sapphire in a process that takes over 25 hours. All Vertu leather is sourced from Northern Europe and tested for its resistance to different substances, from petrol to lipstick.

Vertu's crisp, elegant screens are protected by a virtually unscratchable, ultra-thin sheet of sapphire crystal, which takes fifteen days to create, before being sliced and polished to perfection.
See also: Inside the $10k Android smartphone: How Nokia's 'black sheep' built the Vertu Ti (ZDNet.com)