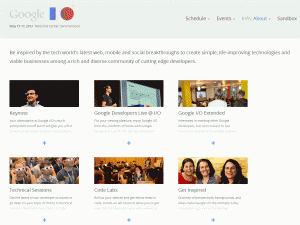 Kevin C. Tofel begins:
According to Google's Sundar Pichai — who is now in charge of Apps, Chrome and Android — this year's I/O won't focus on devices, but instead, feature tools for developers. Pichai's comments come from a Monday morning Wired interview, where he also notes it's not a problem, or out of the ordinary, to have both the Android and Chrome platforms co-existing. To that end, Pichai says "Very few people will ask you, 'Hey, how come MacBooks are on Mac OS-X and iPhone and iPad are on iOS? Why is this?' " .
CNet.com has also joined the forecasting business with What Google I/O should bring for Android hardware lovers
Marguerite Reardon writes:
Android fans may be a bit disappointed if their expectation is brand new hardware. While the 2012 Google I/O conference saw the introduction of the new $199 Nexus 7 seven-inch tablet and the Nexus Q streaming media hub, the 2013 conference is likely to feature no brand new Android hardware. Instead, it's likely that Google will refresh some existing products and possibly provide more details on some of its upcoming Android hardware.
She anticpiates a Nexus 7 update, a Nexus 4 updae, some Google Glass details, Motorola X Phone details, and even a Nexus Q upgrade…
The Google I/O conference begins on Wednesday 15 May.