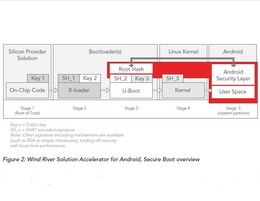 The software involves Android-based device security with advancements around Security Enhanced (SE) Android, partitioning and secure boot processes.
See also: What is… Security Enhanced (SE) Android?
The company highlights the following module features:
. SE Android (enhancements to the open source SE Android project, bidding to make SE Android suitable for commercial use.
. Lightweight Partitioning (providing multiple encrypted partitions where data can be kept secure).
. Secure Boot (security components for verifying and validating each stage of the boot process before being executed, including advanced authentication to prevent malicious software from running).
"The Wind River Solution Accelerators for Android Security help developers unfamiliar with Android, or lacking the in-depth expertise to augment the AOSP software stack, to easily start working on complex security requirements," said Chris Buerger, senior director of open platform products at Wind River.

"Wind River provides coverage for critical security gaps in the open source Android project as well as extends capabilities to give customers the confidence of commercial-quality Android with long term support and maintenance."
The company portfolio of Wind River Solution Accelerators for Android include modules for automotive, medical and connectivity.