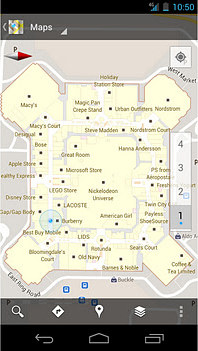 The announcement reads:
Google Maps for mobile had its sixth birthday earlier this month and we're celebrating by releasing the next generation of Google Maps for Android, which is first to get indoor Google Maps – announced moments ago on the Official Google Blog. We also have two other great additions in this release: a new way to switch between features in the toolbar and a new Places home screen.
When you're inside an airport, shopping mall, retail store, or other public space, Google Maps 6.0 for Android brings the freestanding map directory to the palm of your hands — helping you determine where you are, what floor you're on, and where to go indoors. For example, in this busy travel season, you can use Google Maps 6.0 to help you find your way around airports.
Pictured, above, is the Mall of America in Minneapolis with a floor selector.
Another feature involves the Places feature – its home page includes popular searches for where you currently are, which means – in theory – you can find the spots of most interest in any area you travel. See below. Hmmm. Does that really work?