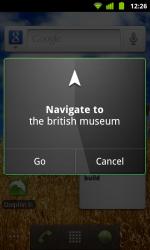 It was launched in the US last year, and allows you – as you would expect – to control your Android phone or tablet by spoken command. The idea is to speed and simplify calling contacts, sending texts, and browsing the web, for example, just by speaking into your phone.
A post by Bertrand Damiba, Google Product Manager, on the Google Mobile Blog, states:
To use Voice Actions, tap the microphone button on the Google search box on your home screen, open the Voice Search app, or press down for a few seconds on the physical search button on your phone to activate the "Speak Now" screen.
He includes the video below, to show Voice Actions in action.
You can speak any of these commands to perform a corresponding Voice Action on your phone:
send text to [contact] [message]
call [business]
call [contact]
go to [website]
navigate to [location/business name]
directions to [location/business name]
map of [location]
This is in addition to conduct a Google search using your voice.
Voice Actions is available on devices (phones and tablets) running Android 2.2 and higher. You can download Voice Search from Android Market if it isn't on your phone, and if you do have Voice Search, you can just start using Voice Actions.