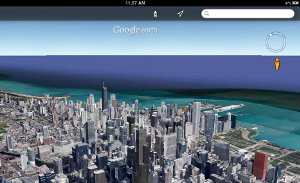 Haris Ramic, Google Earth product manager, writes on the Google Maps blog:
Whether you're on foot looking for the best sushi place in a new neighbourhood or you'd like to do some virtual archaeology around Pompeii, we're all explorers of the world around us in our own way. Your definition of adventure is unique, so we like to offer several ways to explore the world. With the latest edition of Google Earth for Android or iOS – now available in more than 100 countries – your virtual adventures will be even more amazing and immersive.

Have you ever wanted to take a tour of Stonehenge or retrace the steps of Christopher Columbus? With the addition of Street View to Google Earth for mobile devices, you can explore many sites from street level right on your mobile device. And with the new streamlined interface, a simple click of the Earth logo in top left will give you quick access to more information through layers like Panoramio Photos and Wikipedia. Just in case you decide to visit these places yourself, Google Earth's improved directions enable you to visualize step-by-step transit, walking and biking directions in full 3D.
What's new in version 7.1.1? According to Google:
Google Maps Street View: With Street View, you can explore the world at street level.
Improved directions/search: Updated directions let you can visualize transit, walk, bike and drive directions in 3D while update search result list will let you browse search results quickly.
Improved interface: Easily browse and enable different layers through use of new left hand panel
It's available from Google Play »