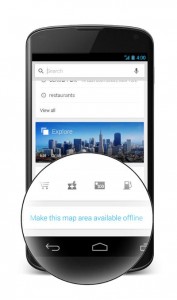 The company announced the new version on Wednesday – see Google reroutes new version of Google Maps app. As well as a new design, re-routing functionality and new reviews options, it also retired the offline maps feature. Well, this has provoked such a response that Google has moved very quickly to add a feature to let you select a map for offline viewing.
Spandas Lui writes:
"We've been happy to hear so many of you enjoying the interface and features of the new Google Maps app for Android, but we know some of you are missing an easy way to access maps offline," Google said in a Google+ post. "That's why our engineering team has been working around the clock to add a 'Make this map area available offline' card below the search box for easy access."

Typing "OK maps" will also activate that feature. iOS users missed all the drama because their Maps update has yet to be released.
You can read the criticism and Google's response.