According to the company:
Android TV brings all that you love about Android apps and games to your living room. Android is baked directly into your TV-watching experience, through a set-top box or as part of your TV. You can use voice search to find a live TV show, a good flick from Google Play, or a music video on YouTube. Plus, because it's Android, you'll be able to play your favourite Android games, reimagined for TV and with a gamepad. Android TV, which, like Chromecast, supports Google Cast technology, will ship with products from a range of consumer electronics companies later this year.
On the Android Developers blog, Dave Burke writes:
In addition to Google Cast apps that send content to the TV, you can now build immersive native apps and console-style games on Android TV devices. These native apps work with TV remotes and gamepads, even if you don't have your phone handy. The Android L Developer Preview SDK includes the new Leanback support library that allows you to design smoother, simpler, living room apps.

And this is just the beginning. In the fall, new APIs will allow you to cast directly to these apps, so users can control the app with the phone, the remote, or even their Android Wear watch. You'll also start seeing Android TV set-top boxes, consoles and televisions from Sony, TP Vision, Sharp, Asus, Razer and more.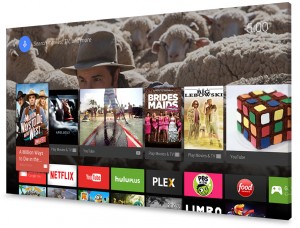 Note that Android TV is distinct from Chromecast – recently released in the UK – which also supports streaming of content to the TV.
This is getting an update, too – getting an update, too. Features flagged by Google include the ability to allow others to cast to your TV without needing to be on the same WiFi network and a customisable homescreen.
Both Android TV and Chromecast are based on Cast technology, and Google has updated the Google Cast SDK. New functionality supported includes:
Media Player Library enhancements
Easier integration with MPEG-DASH Smooth Streaming, and HLS
WebAudio & WebGL support
"Coming soon", says the company, will also be support for queuing and ID delegation.