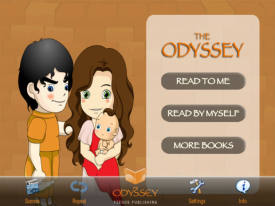 Welcome to another in the new series of Eyes on Android posts that will highlight particular case studies involving the mobile platform.
This involves publishing a children's book app, The Odyssey, which converts the classic story into an interactive format for kids. The case study is written by Sara Chang of the husband and wife team at Peegos Publishing, and is featured on MomsWithApps.com.
It begins:
As a relatively new mobile app developer, we at Peegos Publishing had to learn best practices when it came time to develop for Android, versus a much more familiar iOS environment.The idea to develop our app came when we were trying to find kids' versions of world classics for our 4-year-old daughter. Rather advanced in her taste for stories, she was ready to explore beyond the popular children's stories. Without much luck in finding the kind of stories that we wanted, we set out to develop our own animated ebook. Our idea was to combine cartoon-like animation with static pages, in order to keep the children engaged.