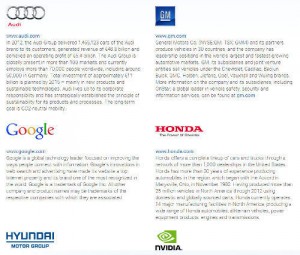 We wrote about Google announcing its Android-based Open Automotive Alliance (OAA) at CES in January, to bring familiar apps and services to drivers. But there is also "iOS in the Car" (or CarPlay as it's now known) and what of MirrorLink? And what are the Nokia and Microsoft offerings? And SYNC or QNX?
The article drives over the congested terrain very clearly.
He writes, in the intro:
The other concern, which frankly most of you won't care about, is that of branding. Vehicle designers are well-trained — and well-paid — to craft beautiful, stylish, and distinctive exteriors. So too are interior designers, spending years chasing proper materials and sculpting desirable ergonomics for their cabins. A hugely important part of the equation is the centre stack, the waterfall of controls between the front seats. Manufacturers demand that this be just as strongly identifiable as any other part of the car. If it's simply a dumb terminal, a view into your phone, they're giving up that piece of experience. They're again no better than the competition.
Android is the dark horse option, by the way.