It's Amazon's first attempt at TV hardware, supporting 720p and 1080p output, and it runs on a quad-core Qualcomm Krait 300 (1.7 Ghz) with a Qualcomm Adreno 320 GPU.
There's 2GB of LPDDR2 memory and 8GB of internal storage, and it supports HID, HFP 1.6, SPP Bluetooth profiles.
As well as streaming video, it will also stream music (through the likes of Pandora, iHeartRadio, and TuneIn), present sideshows of your own photos (if they're uploaded to Amazon Cloud Drive), and support gaming (via a new Amazon Fire Game Controller, sold separately).
The remote also contains a microphone that can be used for quick voice search.
It's US only at the moment where it will cost $99.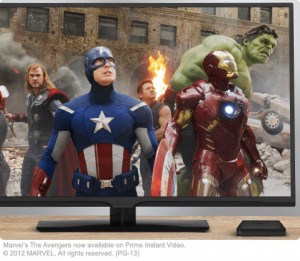 Tech Spec:
Weight
9.9 oz (281 grams)
SOC Platform
Qualcomm Snapdragon 8064
Processor
Qualcomm Krait 300, quad-core to 1.7 Ghz
GPU
Qualcomm Adreno 320
Storage
8 GB internal
Memory
2 GB LPDDR2 @ 533 MHZ
Wi-Fi Connectivity
Dual-band, dual-antenna Wi-Fi (MIMO) for faster streaming and fewer dropped connections than standard Wi-Fi. Supports public and private Wi-Fi networks that use the 802.11a/b/g/n standard with support for WEP, WPA and WPA2 security using password authentication
Bluetooth
Bluetooth 4.0 with support for the following profiles: HID, HFP 1.6, SPP
Cloud Storage
Free cloud storage for all Amazon content
Ports
5.5 mm DC Jack
Type A HDMI 1.4b output, w/HDCP
Optical Audio (TOSLINK)
10/100 Ethernet
USB 2.0 Type A
Audio
Support for Dolby Digital Plus, 5.1 surround sound, 2ch Stereo and HDMI audio pass through up to 7.1
Content Formats Supported
Video: H.263, H.264, MPEG4-SP, VC1
Audio: AAC, AC-3, E-AC-3, HE-A, PCM, MP3
Photo: JPG, PNG
Output Resolution Supported
720p and 1080p up to 60fps
System Requirements
High-definition television, HDMI cable
TV Compatibility
Compatible with high-definition TVs with HDMI capable of 1080p or 720p at 60/50Hz, including popular models from these manufacturers: Hitachi, JVC, LG, Mitsubishi, NEC, Panasonic, Philips, Pioneer, Samsung, Sharp, Sony, Toshiba, Vizio, Westinghouse
Warranty and Service
1-year Limited Warranty and service included. Use of Fire TV is subject to the terms found here.
Regional Support
Certain services may not be available outside the U.S.
Included in the Box
Amazon Fire TV
Amazon Fire TV remote
2 AAA batteries
Power Adapter
Quick Start Guide