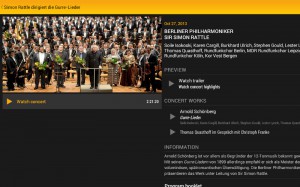 Providing "subscribers with the best classical music experience available outside a concert hall" is the promise, delivering live streams of the orchestra in full high definition. Simon Rattle in all his glory, as it were.
In addition to "as-live" concerts, the app includes access to an archive of the Berlin Philharmonic's previously streamed orchestral performances, interviews and documentaries.
For example, they have just added a couple of Herbert Von Karajan-related items: Robert Dornhelm's 2008 documentary "Karajan – Or beauty as I see it" and a recording of him conducting Beethoven's fifth symphony from 1972.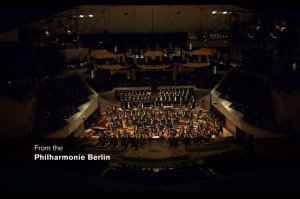 As an overview, Digital Concert Hall on Android features:
At least 40 live-streams every year in HD video
More than 250 concert recordings on-demand
150 free exclusive interviews with the conductors and soloists
Feature-length documentaries, including "Rhythm is it!" and "Trip to Asia"
Free children's concerts
It supports Google Chromecast
You can find out more information at www.digitalconcerthall.com and download the app from Google Play.
The app was produced by Android specialists Novoda, and it currently carries a rating of 4.5 from 276 reviews.
Incidentally, the Berlin Philharmonic recently launched of its own recording label, Berliner Philharmoniker Recordings, and the Digital Concert Hall will be the online arm of its operation. From vinyl records with Deutsche Grammophone to Google Chromecast digital streaming, it's all change in the music world…
Previous Android Applications in Focus: