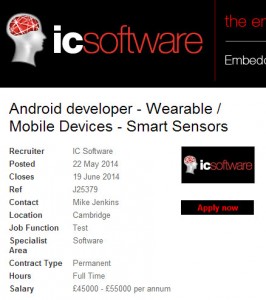 How about a cutting edge job related to wearable technology, for example? IC Software is recruiting for the full time permanent position ("Android developer - Wearable / Mobile Devices - Smart Sensors") that is based in Cambridge and has a salary of £45,000 - £55,000.
Very bright and capable Software Developers to work on Smart sensors, intelligent sensor systems, smartphone utilisation, wearable devices development, really exciting technologies and applications.
Or how about this contract Software Test Engineer position, which requires knowledge of Android and iOS? Advertised via Computer Futures, it is a minimum 6 month contract paying £350 - £400 per day.
A Software Test Engineer is required immediately for a contract role in Hertfordshire for a minimum contract length of 6 months. This is a company that is really on the up in terms of growth and new projects, for which they need a contractor ASAP to get involved in.
How about this permanent, full-time embedded software engineer position based in Cambridge related to Android? It is advertised via IC Software (salary £45,000 - £60,000).
Software Engineers are urgently sought by this leading developer of wireless connectivity solutions based in Cambridge. You will be responsible for developing embedded Linux and Android based software in C and Java that will be embedded in millions of wireless devices and used worldwide. This is a new innovative product so you will be expected to use your forward thinking to develop the product going forward.
Or, finally, how about this Junior/Graduate Software Engineer position requiring C#, Java and Android? Redline says it is based in Staffordshire ("they are easily commutable from Stafford, Rugeley, Stoke, Stone, Crewe and Ashbourne") and the full-time position pays "£20,000 - £27,000 per annum".
A superb opportunity for a Junior / Graduate Software Engineer - C#, Java, Android has become available in the Staffordshire area. My client is a global leader in the design and manufacture of cutting edge technology for the industrial, commercial and instrumentation industries. They are investing heavily in R&D and designing a range of new products.
Also, there are plenty more Android-related jobs listed online.
Check out all the Android-related jobs currently on the ElectronicsWeekly.com Jobs service »