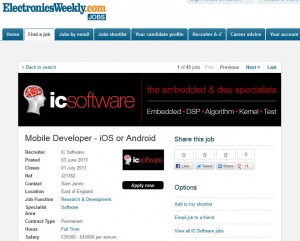 Well, why not make it a regular thing, twice a month say? Here is a look at the latest postions available for those with some expertise of the Google embedded platform.
How about this full-time position "3D Graphics Software Engineer - C++, Android, OpenGL". It is advertised via IC Software (£35,000 – £40,000 per annum):
This 3D Graphics Software Engineer position is a unique and challenging role for a very reputable Semiconductor company based in Cambridge. You have to be an engineer who is passionate about developing 3D graphics technology and wanting to know more about Android and Graphics/Gaming engines.
This position - "Embedded, Linux, Android, C, Java,, Networking, Mobile, Cambs" - is also via IC Software (£45000 - £60000 per annum):
Software Engineers are urgently sought by this leading developer of wireless connectivity solutions based in Cambridge. You will be responsible for developing embedded Linux and Android based software in C and Java that will be embedded in millions of wireless devices and used worldwide. This is a new innovative product so you will be expected to use your forward thinking to develop the product going forward.
Or how about, in Hertfordshire, an "Application Engineer - Software - C, Linux, Android, GPU" ("Competitive, plus excellent benefits package")
You will be expected to support and train clients on site as well as working with development and test teams in house. You will get to work with the latest technologies across a number of application areas and will be a key part in taking them to market. They are looking for a junior software engineer with experience or an interest in Linux and / or Android.
Finally, "Linux Kernel, Android, C, Software Engineer London" (£47000 - £55000 per annum)
Linux Kernel / Android Developers are sought by leader in wireless device and mobile computing software. You will be working in their R+D Centre based in West London and you will have a real opportunity to influence the direction of future development within this fast moving, exciting market! You will be responsible for kernel level software development for Linux / Android platform graphics for yet to be released software packages.
Check out all the Android-related jobs currently on the ElectronicsWeekly.com Jobs service »