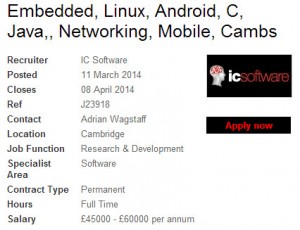 How about this permanent, full-time software engineer position based in Cambridge related to Android? It is advertised via IC Software (salary £45000 - £60000 per annum).
Software Engineers are urgently sought by this leading developer of wireless connectivity solutions based in Cambridge. You will be responsible for developing embedded Linux and Android based software in C and Java that will be embedded in millions of wireless devices and used worldwide. This is a new innovative product so you will be expected to use your forward thinking to develop the product going forward.
Redline is also looking for a Software Engineer - C#, Java, Android. Based in Staffordshire, the full-time position pays "£20000 - £25000 per annum".
A superb opportunity for a Software Engineer - C#, Java, Android has become available in the Staffordshire area. My client is a global leader in the design and manufacture of cutting edge technology for the industrial, commercial and instrumentation industries. Due to the recent success of new products they are happy to take someone at a junior level / graduate.
Slightly different, there is this one for contractors. Advertised via IC Software, it is looking for "Android Contract Developer , Java, NFC, UI". Based in Cambridge, the full-time position involves a salary of £38 - £42 per hour
This position is with a cutting edge technology company and requires a previous knowledge of NFC. It also requires a knowledge of Android Applications development using Java. Some experience developing UIs may also be of benefit in this position. Finally a previous knowledge of debugging and testing would be ideal.
Or how about this one? Technical Manager for In Car Connectivity and Security, via European Recruitment. Based in Berlin, the full-time, permanent position has a salary of €65000 - €75000.
My client works on one of the most fascinating topics in software development: the integration of Linux or Android solutions with automotive-specific software systems such as AUTOSAR.
Also, there are plenty more Android-related jobs listed online.
Check out all the Android-related jobs currently on the ElectronicsWeekly.com Jobs service »