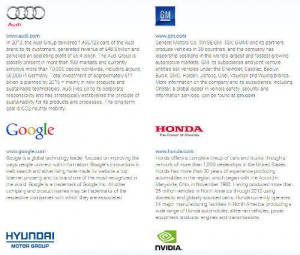 Cue a range of motor puns with Google declaring it wants to be "accelerating auto innovation" and make the car better connected with the other screens in our lives…
Those already on board the OAA, as founding members, are: Audi, GM, Honda, Hyundai and Nvidia.
The Consumer Electronics Show (CES) Latest News Roundup »
Patrick Brady, Director of Android Engineering, writes on the official Google Android blog:
Today, millions of people already bring Android phones and tablets into their cars, but it's not yet a driving-optimized experience. Wouldn't it be great if you could bring your favourite apps and music with you, and use them safely with your car's built-in controls and in-dash display?

Together with our OAA partners, we're working to enable new forms of integration with Android devices, and adapting Android for the car to make driving safer, easier and more enjoyable for everyone. Putting Android in the car will bring drivers apps and services they already know and love, while enabling automakers to more easily deliver cutting-edge technology to their customers. And it will create new opportunities for developers to extend the variety and depth of the Android app ecosystem in new, exciting and safe ways.
Read the full blog post – New partnership to bring Android to the open road »
How will Android work, exactly, inside a car? Google is promising a "car optimised experience", and it will develop new Android platform features for making the car itself a connected Android device.
Apparently, you can expect to see the first cars with Android integration by the end of this year, and Google says it has been working with government agencies, such as the US National Highway Traffic Safety Administration (NHTSA), to ensure drivers "get what they're looking for without disrupting their focus on the road".
Read more about the OAA at openautoalliance.net »
Apple announced its 'iOS in the Car' initiative back in June last year, at its WWDC 2013.
Continuing on the automotive theme at CES, Chevrolet also announced the launch of its Performance Data Recorder (PDR), developed in partnership with Cosworth. It's all about data acquisition and telemetry electronics, together with HD video for presenting the vehicle data and infotainment…
"The Performance Data Recorder combines the ability to record and share drive videos with the power of a professional-level motorsports telemetry system," said Tadge Juechter, Corvette chief engineer. "Drivers can easily record and share their experiences driving down the Tail of the Dragon or lapping Road Atlanta. In addition, with the included software users can analyze their laps in incredible detail, and find opportunities to improve their driving and lap times."
The system will be available on the 2015 Corvette Stingray.