The stickers measure 49 x 16 x 0.49 mm and come in a range of colours.
Chris Wood writes:
The waterproof stickers come in four-button and two-button versions, both available in three different colours. They can be placed either directly on the back of the device (be it a smartphone or tablet) or on the back of a case, providing it's not made of metal. The buttons can be configured to perform a wide variety of tasks from launching apps or placing calls, to instantly taking photos or controlling music apps. They can also be configured to provide haptic feedback when pressed.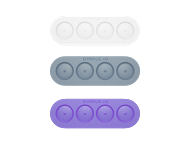 It's seeking crowdfunding on IndieGoGO, where it has already passed its $43,000 goal, having raised $52K from 1,727 funders with 28 days still left.
The people behind Dimple expect to be shipping product from August 2014.
Note that the system works only with Android 4.0+ devices, but even then not all devices are covered. The HTC One, for example, is apparently incompatible.