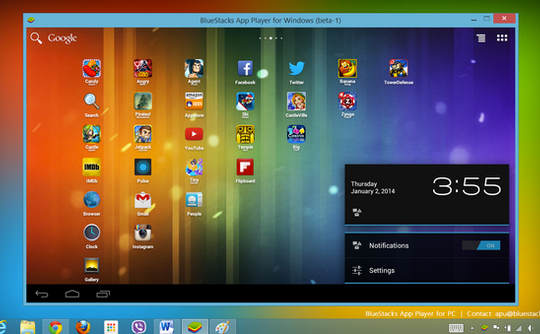 We're not talking about just a dual-boot option, but more of a "picture-in-picture" integration of Android into Windows on a tablet…
Carly Page writes:
Thanks to [AMD's] Bluestacks collaboration, users of Windows 7 or Windows 8 devices with AMD chips will be able to take a new virtualised approach, with the Android user interface appearing in a window on the PC desktop, which can be made full screen, and even giving users access to the configuration toggles and settings that they have on their Android smartphones and tablets.
For its part AMD writes:
Unlike traditional "dual-OS" systems, which require the user to disengage from one OS before using another, the AMD and BlueStacks solution runs Android virtually within Windows. AMD APUs are designed to deliver far greater processing power than the smart phones for which Android apps are generally developed, and should provide more than enough performance to support the typical Android app's requirements, providing a very satisfying user experience.

The latest version of BlueStacks allows consumers to sync Android apps from a mobile device to a PC with FoneLink, a cloud-based service that enables an AMD Windows-based PCs to become an extension of Android mobile devices and vice versa. BlueStacks also adds support for AMD virtualization hardware so that multiple operating systems and their applications can run simultaneously on the same computer.
The image is a screenshot showing the AMD-Bluestacks system for AMD-based PCs.
According to Intel, and the CEO Brian Krzanich's keynote, Intel will also be enabling both Android and Windows in future devices…