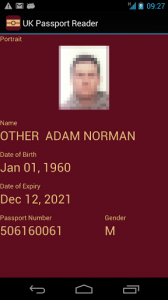 Basically it's a newish app that uses NFC to process info from the chip in your (post 2006) UK passport. Who has done this, and why? Well,…
It seems it was developed by Home Office staff themselves (UK Identity and Passport Service staff, to be precise), without funding, as a proof of concept for accessing passport info held in the chip.
Bill Ray writes:
The details stored in the chip as the same as those visible on the passport, so they're of little value to the holder. Anyone else would need to have possession of the passport to use the facility, which would seem to render it redundant.

Hotels and other institutions often photocopy passports for security, so perhaps they could use the app to take a digital version instead. Checking the digital signature relies less on human faculties than the old-fashioned scrawl, so digital copies could be valuable in picking up forgeries (which was the point of the chip), but that seems a limited market.
You can read more about the app, and download to experiment if you so wish, at Google Play.
The app description states:
The app was written by the UK's Identity and Passport Service. Most UK passports issued since 2006 have a chip in them which stores the holder's photo and all the details which are also on the photo page of the passport. The app will only display the data from the passport chip – it won't do anything else with it. It is just a passport reader, not a passport checker, so it will not verify that a passport or the passport chip is genuine. The app does not transmit or store any data.

This app is a proof of concept and was built to allow us to explore this technology. We know that there are many things it could do which it does not do, and there are some things it does do which could be done better. The methods it uses to read the chip are public domain.
Note that the app is apparently incompatible with NFC TAGInfo "and possibly other tag readers that start automatically".
It requires Android 4.0.3 and upwards.