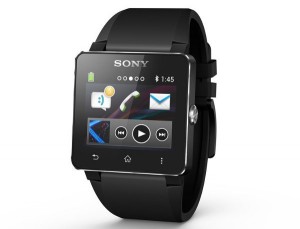 Key features include splash proofness, NFC support, and a slightly larger display (a 1.6in transflective LCD, 220×176 pixels), for this self-dubbed 'second screen' for Android devices (which may themselves be secondary displays, perhaps making the watch itself a tertiary display!). "The world's first Android enabled SmartWatch with One-touch NFC," declares Sony.
The idea, of course, is that you can quickly check text messages, Google alerts, Facebook updates, etc, at a glance. When a message or notification is received you touch the appropriate app icon to see the content.
Another example of usage that Sony highlights is hands free calling…
"When you are using a wireless Bluetooth headset for music, you can use SmartWatch 2 as a phone remote to make or take calls. When a call comes in, you can see who's calling in your SmartWatch display, press once to answer and enjoy hands free calling at its easiest. You can also browse recent calls in your call log and use SmartWatch to initiate a call."
More details can be found at www.sonymobile.com/SmartWatch2
You can read Engadget's view of the SmartWatch 2 »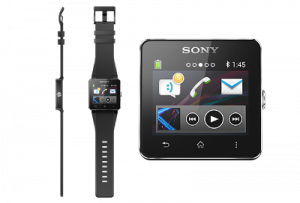 Applications supported by the SmartWatch 2:
App recommender
Facebook
Twitter
SMS
MMS
Missed call notification
Calendar notification
Email
Google+
New events – aggregator
Missed call
RSS
Gmail
Viewfinder (remote camera shutter)
Phonebook
Music player
Find phone
Call log
Weather
Time, date
Measuring 42 x 9 x 41 mm, weighing 122.5 grams, and supporting Bluetooth 3.0, it works as an NFC watch with all smartphones running Android 4.0 (Ice Cream Sandwich) and later.
You can see the promotional video below
httpv://youtu.be/DoUzM7WYlP0