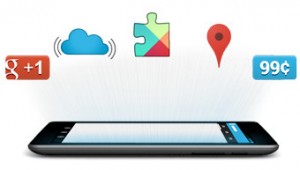 What's new in the latest 4.1 release? Google highlights the following:
Play Games – support for turn-based multi player games. "Developers can build asynchronous games to play with friends and auto-matched players, supporting 2-8 players per game. When players take turns, their turn data is uploaded to Play Services and shared with other players automatically."
Google Drive – includes a developer preview of the new Google Drive API for Android. "You can use it to easily read and write files in Google Drive so they're available across devices and on the web. Users can work with files offline too — changes are synced with Google Drive automatically when they reconnect."
Google Mobile Ads – the Google Mobile Ads SDK now fully supports DoubleClick for Publishers, DoubleClick Ad Exchange, and Search Ads for Mobile Apps". There's also more support for location-based ads.
Google+ – to make things easier to share, according to Google, it includes "better auto-complete and suggested recipients from Gmail contacts, device contacts and people on Google+".