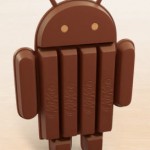 NXP Semiconductors has updated its PN547 NFC controller to work with Android 4.4 "KitKat".
Benefits claimed for the new version of the controller include: a 50% smaller footprint, power consumption reduced by 50%, a 2x increase in RF operating range and unique, embedded MIFARE crypto, and a 5x increase in system data through put.
Android 4.4 introduced new support for NFC-based transactions through host-card emulation (HCE), to support such services mobile payments, loyalty programs, and transit passes. NXP says it has "successfully demonstrated and validated multi-Secure Element (embedded SE, UICC based SE and HCE) performance on its leading NFC controllers to facilitate OEM adoption and integration."
Apparently, PN547 fully supports MIFARE, which is used in 70% of the world's contactless transport systems.
With regard to RF performance, the company says the new integration eases "EMVCo and NFC Forum certifications while using smaller antenna size and lowering overall solution bill of materials," says the company.
"By supporting HCE with our established and market-proven PN547 NFC controller, we are opening the door and creating markets for new applications and new ways consumers can use this interactive technology," said Jeff Miles, vice president mobile transactions, NXP Semiconductors.
NXP was involved in the creation of NFC back in 2002, the company highlights.