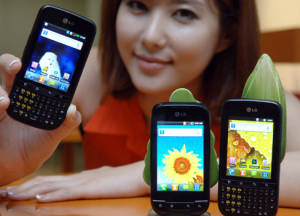 They have been previewed and digested in the blogosphere (see this video preview on Talk Android, for example), but the support for Near Field Communications is something not previously known or discussed, flags IntoMobile.
In the press release, LG writes:
Specifications for the Optimus Net will vary market by market. Depending on the carrier, some of the phones in Europe will be Near Field Communication (NFC) capable for mobile payments. The North American version will include a QWERTY keyboard and in Brazil, China, Asia and the CIS region, the Optimus Net will be dual SIMcompatible. The phone will be available in white, as well as black.
Both the Optimus Pro and Optimus Net boast the largest 1500mAh battery in their class and an 800 MHz CPU, ensuring longer, better performance.
The company says the two smartphones will be available this summer, "rolling out in 30 markets beginning in Europe".