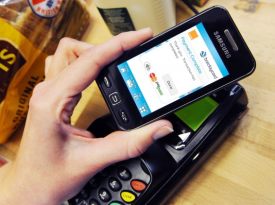 Which Android phones are involved has not been specified, writes Matt Warman, the paper's consumer technology editor – of course, not all Android models support NFC. The company says details of payment-compatible handsets will be announced in the "forthcoming weeks".
Currently £15 is the maximum that can be spent by waving a phone near a specialised reader, but this will rise to £20 in June.
Warman writes:
Via a new part of Quick Tap called 'Open Load', credit or debit card holders from any bank will be able to use the service.

Jason Rees, Director of Mobile Payments and Ticketing for Orange UK, said bringing Quick Tap to Android […] would make it far more popular than it is today, when it is available only on the Samsung Tocco and Samsung Wave 578 handsets. "When combined with the ability to use it with credit or debit cards from all the major UK banks, then even more people will be able to experience the simplicity and convenience of shopping with their phone," he said.