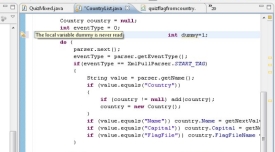 Welcome to the third in the new series of Eyes on Android posts that will highlight particular case studies involving the mobile platform.
This one continues on the theme of app development, this time comparing Android against the Microsoft mobile phone platform Windows Phone 7…
The case study, from Nilzor's Techblog, begins:
I started my mobile apps "development career" last year by publishing a couple of tools for the Windows Mobile 6.5 platform. I quickly grew fond of the whole apps concept – low threshold for getting started and small programs meaning short projects time-wise. Also the platform took care of the distribution and monetary transactions for me, so that I could care about the thing I find most fun – coding.It didn't take very long until I realized I had to start thinking about other platforms, though. The Windows Mobile 6.x platform (WM6.x for short) was already lagging behind Apple and Google user experience-wise, and the nail in the coffin came when Microsoft announced Windows Phone 7. Everyone who've done their research know that the Windows Mobile 6.x platform is as different to Windows Phone 7 as Android is to iOS, so although I was already into Microsoft technology, I knew the choice for my next mobile operating system was anything but given. I had already ruled out Apple iOS for several reasons not relevant here, so my choice was between the rising star of Android from Google, and Microsoft's new undertaking in the cell phone world – Windows Phone 7 (WP7).