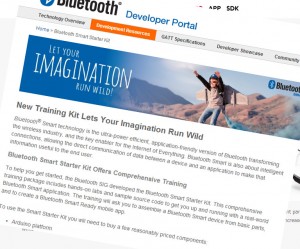 Need Bluetooth Smart comms for your IoT app, but not sure where to start? Take a look at this latest Bluetooth devkit from the Bluetooth Special Interest Group itself: a Smart Starter Kit (SSK) for developers to get prototypes up and running.
It is essentially a free-to-download kit including hands-on labs and sample code. The hardware you would need could include, for example, a Bluetooth Smart Shield for an Arduino board together with a USB cable.
The SSK is part of a wider Bluetooth Developer Program, which includes the Bluetooth Innovation Series in London next month (as well as the Developer Portal and Application Accelerator).
A key point is that the kit works regardless of the target platform you are building for – not just Android, but iOS or Windows Phone (they now all include a standard Bluetooth Smart protocol stack).
"There are more than three billion smartphones on the market right now, all with different operating systems, architecture and specs. But the one thing they almost all have in common is Bluetooth," said Suke Jawanda, Bluetooth SIG CMO.

"If you want your product to connect to these devices, not to mention future ones, you need to build with Bluetooth Smart. Our Smart Starter Kit takes the guesswork out of adding connectivity to a device, cuts time to market for developers and brings wireless convenience to consumers faster than ever before."
Note that the CSR Bluetooth dev kit (right) that was released last December came with its own profiles, example applications and hardware board, and this was reflected in the price.
"The European developer scene is buzzing with excitement about Bluetooth Smart and developers are looking for tools to help get them up to speed and creating apps and devices quickly," said Andrew Farrell, CEO at Matchbox."

"Bluetooth Smart is essential to creating innovative products for the Internet of Things. Resources like the Smart Starter Kit that increase knowledge and help reduce time to market will be welcomed with open arms by developers throughout the region."
See also: What is… Bluedroid?
See also: What is… a GATT Service (Bluetooth LE)