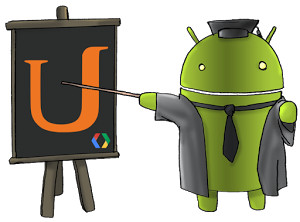 It features Google Developer Advocates and people from the course-provider Udacity, and the course promises to help
build an Android app
earn best practices of mobile development in general
and Android development in particular.
It's not free, note, if you take the full version ($150/month), but there is a free two week trial available.
Reto Meier, Head of Scalable Developer Advocacy, writes:
This guided course, along with UX Design for Mobile Developers and Mobile Web Development, complement our existing material—including documentation, samples, and videos — to offer a solid grounding in developing great experiences for people using mobile devices. Check out the trailer below for an overview of what's in the course..
Read the full post on Android Developers Blog raquo;
And here's that trailer mentioned above…
httpv://youtu.be/LfVBFFoy9Y0
Prerequisites and Requirements
From the Udacity course page:
You will need strong working knowledge of Java or another object-oriented programming language. Udacity's Intro to Java is a helpful background if you're looking to refresh your Java skills.

You will be expected to download Android Studio in order to follow along with the instructors throughout the course. You also should be comfortable working with code on Github.

Access to an Android device is helpful — but not required — to complete the final project.

Finally, while not a formal prerequisite, UX Design for Mobile (also taught in collaboration with Google) is a good companion course to this one.