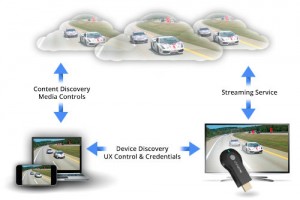 Chromecast technology enables display of content across mobile devices, such as phones, tablets, laptops, and large-screen displays, such as your TV. Basically, mixing out app content to a larger, primary screen.
John Affaki, Google Engineering Manager, writes:
The Google Cast SDK is simple to integrate because there's no need to write a new app. Just incorporate the SDK into your existing mobile and web apps to bring your content to the TV. You are in control of how and when you develop and publish your cast-ready apps through the Google Cast developer console. The SDK is available on Android and iOS as well as on Chrome through the Google Cast browser extension.
httpv://youtu.be/eJItrPj7Ivk
The default media player with Chromecast will play back HTML5 media content, and this can be customised and styled via CSS. However, you can also build your own "custom receiver".
For more info on getting started with the Google Cast SDK, head over to the Google Cast Developers site. Sample app code is available. For example, CastHelloText-android shows shows how to send messages from an Android device to a receiver using a custom namespace.
Read the full post on the Google Developers Blog – Ready to cast: Chromecast now open to developers with the Google Cast SDK