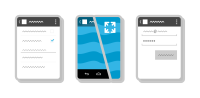 Google has gone into more detail about Revision 21 of the the Android SDK tools, which accompanies the latest Android 4.2 APIs.
On the Android Developers Blog, Xavier Ducrohet, Android SDK Tech Lead, and Angana Ghosh, Product Manager in Android, talk us through the main new features. These do look very interesting (said he, who hasn't yet made a move to downloaded the 4.2 system image and SDK…).
As someone who has struggled with Android app layout models – Build your own Android app – #5 Layouts and going with the flow – there seems to be steps in the right direction.
For example, there is the Multi-config editor (pictured below).
"A new multi-configuration editor allows you to develop and prototype your UI across various orientations, screen sizes and locales. For example, while editing your layout in portrait mode, you can see if your edits aren't visible in the shorter landscape orientation. You can see previews for other screen sizes from small phones to large tablets, you can see previews for the layout using all the available language translations in your app, and so on. You can even see how the layout appears when it is included as a fragment in a different larger layout. Finally, Android allows you to create specialized layouts for any of these configurations, and the multi configuration editor shows you these overridden layouts."
There is also a revamped AVD creation (Android Virtual Devices) dialog, to make it easier to match real device profiles. Apparently, AVDs will also appear in the layout editor to show you how the layouts will look.
On the UI Automator Test Framework, the company writes:
"One common approach to UI testing is to run tests manually and verify that the app is behaving as expected. UI Automator is a new software testing framework available in Tools R21 that provides you with tools to easily automate UI testing tasks. It provides a GUI tool to scan and analyze the UI components of an Android application (uiautomatorviewer), a library containing APIs to create customized functional UI tests, and an execution engine to automate and run the tests against multiple physical devices. UI Automator runs on Android 4.1 (API level 16) or higher. To learn more head over to the UI Testing documentation."
Other features of SDK 21 include more app templates (a new full-screen activity for use as a photo or video viewer, a settings activity to handle basic user preferences and a login activity to capture username/password) and a one-click SDK installer, to more easily download "all the various SDK components like Tools, Platform Tools, Eclipse ADT, and the latest system image with a single click."