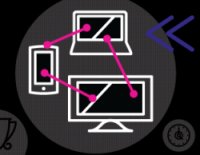 Are you an Android developer? Would you like to win $75,000? Well, Qualcomm is running a Peer-2-Peer App Challenge, to encourage use of its own SDK to support AllJoyn technology (an open-source development framework for proximity-based device-to-device comms).
"Qualcomm invites software developers to create innovative commercial Android-based games, and social and educational apps that use the AllJoyn SDK from Qualcomm Innovation Center, Inc. AllJoyn is an open-source application development framework that enables proximity-based device-to-device communication that connects people in real-time. Utilizing AllJoyn in your apps offers a host of exciting new user experiences from multi-player gaming and entertainment, to media sharing, multi-screen experiences, productivity tools and social networking."
This Challenge enables developers of eligible social apps, educational apps and games using AllJoyn to submit entries to a panel of judges. Up to fourteen (14) winning submissions will be selected to share in over $170,000 in cash and prizes and also may be selected for promotion, exposure, and recognition by Qualcomm.
There are three main categories to consider: gaming, social and educational, and the company says each submission will be judged based on "the overall user experience of the application or game, the quality and uniqueness of the application, the look and feel of the user interface of the application and the innovative use of the AllJoyn technology."
There will also be a Popular Choice award, based on a public vote.
The basic conditions are that you must make use of the AllJoyn SDK library and the app must be submitted to a publicly accessible Android application store for commercial distribution before being submitted for consideration in the Challenge. Submissions must also include a demonstration video and a text description.
Prizes:

Best Overall App – Grand Prize
$75,000
Best Overall App – Second Prize

$25,000
Best Overall App – Third Prize

$15,000
Best Multi-screen Experience

$10,000
Best Gaming App

$10,000
Best Social App

$10,000
Best Educational App

$10,000
Popular Choice Award – First Prize

$6,000
Popular Choice Award – Second Prize

$4,000
Large Organization Recognition Award

Awarded to competing organizations of 50+ employees
Best Overall App – Honorable Mention (5)

$1,299 + SnapDragon S4 Pro APQ8064-based Mobile Development Platform/Tablet (valued at $1,299 each)