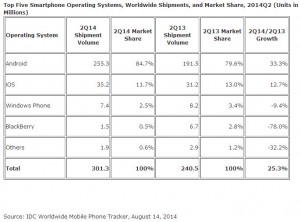 IDC is reporting on worldwide smartphone shipments, noting they have passed 300 million units in the second quarter of the year.
Together, Android and iOS devices account for 96% of the global market, with Android taking 84.7% share. That is based on 255.3 million Andorid smartphones being shipped (not sold, note).
And of course, shipments don't equate to revenue or tell the story on margins. It's quite likely iOS will be dwarfed on shipment sales but exceed on marginal revenue – Apple getting a lot more back for each phone compared to its Android rivals.
And of course, again, developer revenues will follow a different pattern, in strict terms of app revenues generated.
But, with all those statistical caveats, the IDC table is pictured, right – Worldwide Smartphone Shipments Edge Past 300 Million Units in the Second Quarter.
"With many of its OEM partners focusing on the sub-$200 segments, Android has been reaping huge gains within emerging markets," said Ramon Llamas, Research Manager with IDC's Mobile Phone team. "During the second quarter, 58.6% of all Android smartphone shipments worldwide cost less than $200 off contract, making them very attractive compared to other devices. With the recent introduction of Android One, in which Google offers reference designs below $100 to Android OEMs, the proportion of sub-$200 volumes will climb even higher."