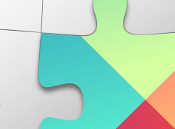 Google Play Services can be thought of as the core Google functionality made available across a variety of different Android versions. They are one way Google has been addressing the perceived Android fragmentation problem as it enables the company to get new functionality straight out to old phones.
What is in Google Play Services 5.0?
Services for Android wearables ("Your apps can more easily communicate and sync with code running on Android wearables through an automatically synchronized, persistent data store and a reliable messaging interface")
Play Games services ("Build a great gaming experience with Quests, which allow event-based challenges for players to complete for rewards")
App Indexing API ("Surface deep content in your native mobile applications on Google search")
Google Cast ("Use media tracks to enable closed-caption support for Chromecast")
Drive ("Sort query results, create offline folders, and select any mime type in the file picker by default")
Wallet ("Build a 'Save to Wallet' button for offers directly into your app")
Analytics ("Understand how different user acquisition campaigns are performing with Enhanced Ecommerce")
Mobile Ads ("Use improved in-app purchase ads and integrations for the Play store in-app purchase API client")
Dynamic Security Provider ("An alternative to the platform's secure networking APIs that can be updated more frequently")
The rollout of Google Play services 5.0 will "take several days", says Google.
You can track the recent releases of Google Play Services here: www.electronicsweekly.com/tag/google-play-services/