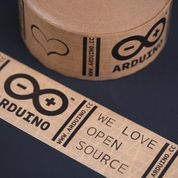 Arduino is based on the contribution of many other open source projects. Arduino is grateful to these efforts and wants to support these and other initiatives through yearly donations. Each year, starting in 2013, Arduino donates to open source projects sharing the Arduino approach and philosophy.
There will be 10 beneficiaries, and they should match one or more of the following considerations, say Arduino:
it brings innovations in the open electronic and making ecosystem
it's an open source project
it facilitates the exchange of knowledge
it has an impact on open source ecosystem
it is a non commercial project
It's a two stage process, the first call for submissions will open during May, and then at the end of June they'll announce 5 finalists receiving a donation of $2000 each.
The second call for submissions will happen during September, and the five remaining finalists will be announced at the Maker Faire Rome, in October 2014 (Arduino does have Italian roots, by the way, being born the Interaction Design Institute in Ivrea, Piedmont).
Good for Arduino! An open way of helping the worthwhile cause of open source software.