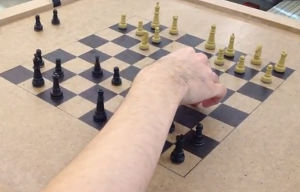 You make a move on your board and the system wirelessly transmits the info for the corresponding to move to take place on your opponent's board. They make a move, and you see the piece move on your own board…
FunGowRightNow12 has documented the Wireless Arduino Powered Chess project on YouTube:
Our goal is to allow people to connect and play board games with each other from anywhere in the world. By combing a physical board with modern technology, we hope to bring a more interpersonal experience that is not achieved through a computer screen. See our other videos for a look inside the system and how moves such as castling and en passant are handled.
A view of the device's insides:
httpv://youtu.be/XCp4M08IWnA
But chess isn't draughts, there are lots of weird and wonderful moves and exceptions (en passant, castling, illegal moves). How are these handled?
httpv://youtu.be/EIFnSxEvxBM
Time to see the system in full, game glory: (I like it when a taken piece makes its own humble way to the sidelines, on the remote board!)
httpv://youtu.be/dX37LFv8jWY
Impressive stuff!
You know, it kinda reminds me of Ol' El Ajedrecista ("The Chess player") – see El Ajedrecista, the first (chess playing) computer game
[Via Technabob]