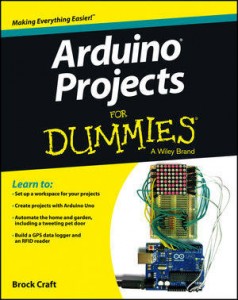 UPDATED: Please note that the book has now been claimed!
Here's a new book of interest to Gadget Masters that has crossed our desk –  Arduino Projects for Dummies
It's written by Brock Craft and is aimed at engineers, developers and scientists, as well as hobbyists and students…
According to Wiley, the publisher:
Introduces Arduino basics to provide you with a solid foundation of understanding before you tackle your first project
Features a variety of fun projects that show you how to do everything from automating your garden's watering system to constructing a keypad entry system, installing a tweeting cat flap, building a robot car, and much more
Provides an easy, hands-on approach to learning more about electronics, programming, and interaction design for Makers of all ages
The full details:
Pages: 404
Publisher: Wiley
Publication Date: 05 July 2013
ISBN: 978-1118551479
Well, quick draw for the email! We'll give our copy of Arduino Projects for Dummies away to someone out there reading this.
Once again, rather than invent a quiz question, I'll just send it to the first person to email a postal address – not for marketing purposes, note, just for our mailing purposes!
So, first come first served and, as there is only one copy, we'll give priority to the old Mother Country and restrict entry to UK readers only!
Simply email webmaster@electronicsweekly.com