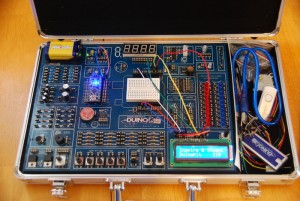 It's fresh on KickStarter, the crowdfunding site for getting project ideas off the ground.
The man behind it is a maths teacher, Dan Alich. He writes:
Everyone enjoys inventing and creating… My goal is to give some tools for helping this process! I have been developing this kit as a safe and easy method of learning Electronics and programming. After gaining a little experience in electronics, users will be able to move the projects away from the kit and build them into a stand-alone project. With this kit you will learn how to read and gather data from input sensors (such as an acceleration sensor, light sensor or temperature sensor), process this data and interact with various other output devices (such as LEDs, Liquid crystal displays and the serial port on your computer). When these skills are combined, the number of projects and ideas are virtually limited only my ones imagination.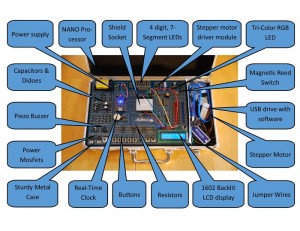 Suggested possible projects include:
Digital Alarm Clock
Countdown Timer
Infrared Signal Recorder / Repeater
Digital "Dice" or random "move" prompts for board games
Motion Sensor / Alarm
Data Recorder / Logger
You will need a PC / Mac / or Linux computer for uploading the programs to the system.
The hoped-for production timeline is for the KickStarter campaign to finish early September, to start shipping components to the DuinoKit Shop mid October, and in November see final assembly and shipping to backers…
At the time of writing, DEP has already raised $10,691 of its $15,300 goal with 41 days to go.
You can read more on the duinokit.com website
Thanks to Atmel for tweeting this one.