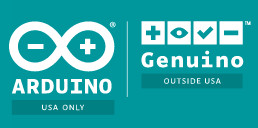 Traditionally based on Atmel AVR microprocessors, the Arduino can now be considered twelve years old. And what a widely used system it has proved, coming in many shapes and sizes with its own highly developed ecosystem.
Buon Compleanno, and here's to the next twelve years!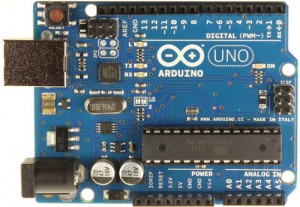 I am grateful to Wikipedia for a little bit of tech history:
Colombian student Hernando Barragán created the development platform Wiring as his Master's thesis project in 2004 at the Interaction Design Institute Ivrea in Ivrea, Italy. Massimo Banzi and Casey Reas (known for his work on Processing) were supervisors for his thesis. The goal was to create low cost, simple tools for non-engineers to create digital projects. The Wiring platform consisted of a hardware PCB with an ATmega128 microcontroller, an integrated development environment (IDE) based on Processing and library functions to easily program the microcontroller.

In 2005, Massimo Banzi, with David Mellis (then an IDII student) and David Cuartielles, added support for the cheaper ATmega8 microcontroller to Wiring. But instead of continuing the work on Wiring, they forked (or copied) the Wiring source code and started running it as a separate project, called Arduino. The Arduino's initial core team consisted of Massimo Banzi, David Cuartielles, Tom Igoe, Gianluca Martino, and David Mellis.
The range of boards is now extensive, including the likes of the Arduino UNO, Leonardo, MEGA, Nano, Due, and Yun…
As far as I am aware, the most recent is the Arduino MKR1000 – see DevBoard Watch: Li-Po battery powers Arduino MKR1000 for IoT
Genuino
The most recent major release, however, would be the Genuino 101 – see Intel, Arduino combine on Genuino
It's such a shame that an otherwise positive initiative should be overshadowed by trademark issue (hence the rather confusing use of the Genuino terms).
David Manners has neatly covered this in one of his Fables on the Mannerisms blog. See Fable: The Betrayer
Android and IoT
On a more posivie note, an Android feather in its cap was that – amid the range of devboards out there – the Arduino Mega ADK was chosen by Google as the open source platform for Open Accessory development (together with an ADK download package available from Google).
Bringing things a bit more up to date, something that so adaptable couldn't also help having an IoT friendly aspect – check out the aforementioned MKR1000.
It was birthday time recently for the Raspberry Pi, too, of course. February 29th saw the launch of the dual-core Raspberry 3, on what was the educational development board's fourth birthday.