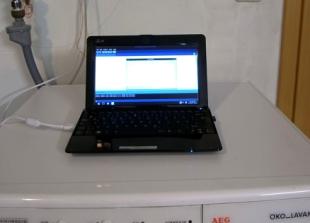 I love this one, and credit to Engadget for the title – Laundrino!
It's what you get when use Arduino to solve a laundry problem of knowing when your clothes are finished down in the basement.
An enterprising chap has rigged up an Arduino Uno and Ethernet shield to the washing machine in question, and saved himself time and effort. Avoiding leaving his clothes in a damp finished state or making an unnecessary premature trip…
Hack-a-day writes:
The washer has an LED that lights when it is finally done doing its thing, so [Micha] removed the LED and soldered in two wires, which he then connected to his Arduino. When the washer is finished and the LED should be lit, the Arduino senses that the input has been pulled low, signaling the end of the cycle. The Arduino was hooked into his home network via an Ethernet shield, enabling him to monitor the process from the comfort of the nearest web browser.
You can read the full details on Hack-a-day.
[Via Engadget]