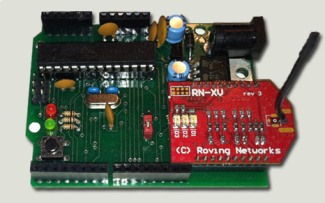 We wrote recently – in Got Arduino, want wireless? – about the development of RADius V1.0, a shield that adds bi-directional wireless serial data capability to Arduino. Well, a Gadget Master reader, Tod Daniels has written to let us know of another system – Wifino.
This is an "Arduino-compatible microcontroller platform with a Wi-Fi module so that wifino can be programmed wirelessly via an 802.11b/g Wi-Fi network. "It's just like an Arduino (or with your existing Arduino), but without the hassle of a USB cable," says the website.
It is coupled with an online Integrated Development Environment and "multi-platform deployment clients for moving code from the IDE to the wifino".
To develop code, all you need is an HTML5 browser – your code is complied in the cloud and deployed using one of our deployment clients to your wifino. Tod writes:
This is intended more as an enabling technology than a DIY project. I will be releasing the how-tos for either etching your own, or modifying your existing Arduino to use the service, but the online IDE and associated apps (windows & iphone) will not be released as a project and will only be available as a service/software product. The other items will be released after the kickstarter project. I thought your readers might be interested because makers are always looking for ways to bring new functionality to their projects.

A technology like this enables them to mobilize their Arduino development. I've always been bothered by the USB cable requirement and the lack of an online IDE for Arduino. This project solves both needs.
The wifino Kickstarter project will be open soon, the website says (Kickstarter is a crowd-funding website). Boards and shields will ship in August / September.
The online IDE will be released in July.