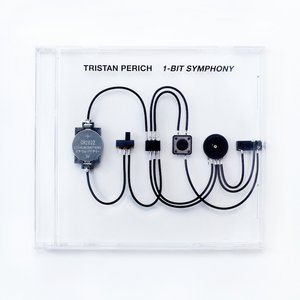 The opus is described thus:
Tristan Perich's 1-Bit Symphony is an electronic composition in five movements on a single microchip. Though housed in a CD jewel case, 1-Bit Symphony is not a recording in the traditional sense; it literally "performs" its music live when turned on. A complete electronic circuit programmed by the artist and assembled by hand plays the music through a headphone jack mounted into the case itself.

A return to the format of Perich's lauded 1-Bit Music (described by the Village Voice as "technology and aesthetic rolled into one"), 1-Bit Symphony further reduces the hardware involved while simultaneously expanding its musical ideas. 1-Bit Symphony utilizes on and off electrical pulses, synthesized by assembly code and routed from microchip to speaker, to manifest data as sound. The device treats electricity as a sonic medium, making an intimate connection between the materiality of hardware and the abstract logic of software.
You can read more about Tristan Perich – who received the Prix Ars Electronica in 2009 for his composition Active Field (for ten violins and ten-channel 1-bit music) – on his artist page on cantaloupemusic.com.
In theory, you can order it online, for $29, but note that it is currently out of stock (although you can preorder to get on the list for the next shipment)…
"I wanted to revisit the idea that an album of music could be more than just a recording, more than just an audio CD, and that when you listen to an album that you could actually be experiencing first hand the production of the music itself," says Perich.